Leadership is like art – hard to define, but you know when you see it. Like many things in life, it's something anyone can learn and improve at. All it takes is a willingness to learn, listen to other people, and understand your strengths and weaknesses.
Best of all, you can demonstrate leadership capabilities (or potential) no matter where you sit within a company. It's a great way to prepare yourself for more responsible roles, and it can help you feel more confident in your current job, including getting the best from your team. So how can you improve leadership?
Leadership vs management
While both are really important, it's good to know there is a difference between leadership and management. Leadership is concerned with people and strategy, while management is concerned with processes and outcomes.
Leadership is about "creating an environment for people to get better," says Marty Corry, NTI's Transport Risk Engineer. "You want to create an environment where people can share their opinions."
On the other hand, management is "about the tasks and monitoring systems, the controls," says Janelle Greene, NTI's Chief Customer Officer. "It's about 'have we achieved this result?', 'are we on time?', 'are we measuring success effectively?'."
The Harvard Business School highlights three differences between leadership and management: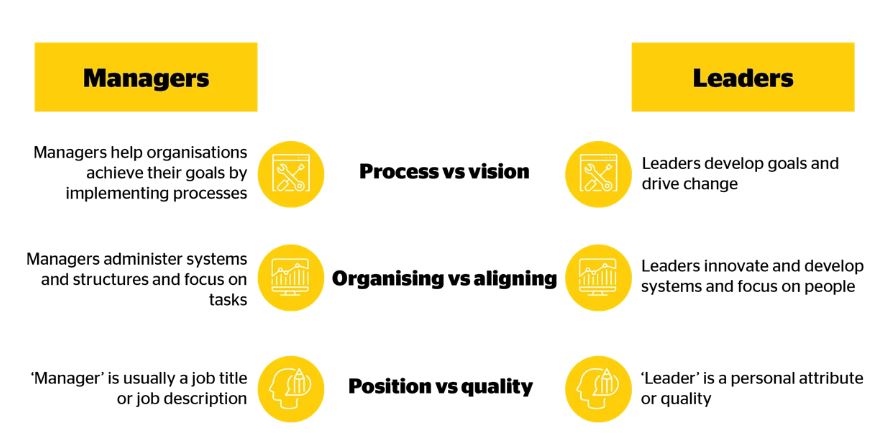 What makes a good leader?
"Leadership is about inspiration, influence and encouragement," Janelle says. These are all interpersonal skills – a primary requirement for leadership is listening to others and empathising with their concerns. Humility and a desire to learn are also essential.
You'll find many lists of leadership qualities online and in books, white papers and magazine articles. We like this one, from Deakin University. It says that leaders understand that:
Leadership is not about you: It's about your team.
Honesty, integrity and humility: Are required.
Accountability is vital: For yourself and your team.
Good leaders commit to a vision: To guide their decisions.
Self-knowledge and self-belief are crucial: But you must never become overconfident or arrogant.
Successful leaders speak well and listen better: To communicate their vision and understand how it's being received and implemented.
Timeliness matters: Goals must be achieved in good time.
Stress management is vital: Leaders are often under pressure; success may depend on managing stress and performing under challenging conditions.
Dysfunction should be avoided, and excellence rewarded: To demonstrate the standards you expect of your team.
Good leaders are lifelong learners: To stay on top of changes in the economy, their industry and their workplace.
How to become a better leader
Training can help you become a better leader. Check what courses are available and get your company to assist if possible. But the most important thing you can do to become a better leader is to listen and learn and be honest and forthright with your colleagues.
"There are some basics you can always have in your 'toolbox'," Janelle says:
"Be available to your people and listen to them.
"Set a vision for your department or team, or a goal you're all trying to achieve.
"Have a weekly meeting where you communicate what's going on.
"Check in with your team members regularly
"Make sure people are clear about what's expected of them.
"Make sure they're motivated.
"Become a student of leaders, watch others who are role-modelling the style of leadership you aspire to."
Take the lead on leadership
Transport businesses are busy, and there's never a good time to stop and evaluate what's going on. But that doesn't mean you shouldn't.
"A lot of transport companies are going day-to-day, week-to-week, month-to-month," says Marty.
"You have to be brave enough to say 'hang on, let's stop – this isn't working', instead of just trying to keep bailing as things get faster and faster. Stop and fix the problem.
"I think that's why some transport companies have been successful. They've identified that and realised that if they focus on leadership, focus on their people, then they're going to see results.
"It's such a quick win, but it's probably the hardest part to get across in a lot of businesses."
This article has been developed as part of NTI's The Business of Safety series with the aim of helping transport and logistics businesses become safer and more sustainable. The Business of Safety is funded by the NHVR's Heavy Vehicle Safety Initiative, supported by the Australian Government. Information in this document is a guide only. It does not take into account your personal or business circumstances. Whilst all due care has been taken, you must not rely on the information as an alternative to legal, legislated regulatory and compliance requirements associated with your business activities. NTI.M002.26.03112021