Recruiting and Onboarding
Do you know your truck types?
For someone new to transport, understanding the variety of different vehicles used can be quite overwhelming. This blog can be used to educate new employees on the basic grouping of truck types and the different ways a particular truck might be described.
Truck/Trailer Configuration
Rigid Trucks
Most of the trucks in Australia are Rigid Trucks, starting at a Gross Vehicle Mass ('GVM': the maximum legal total weight of the vehicle and its load) of around 3.5 tonnes and are driveable on a car license. Above 4.5 tonnes are classified as a 'Heavy Vehicle' and require drivers to have the appropriate heavy vehicle licenses.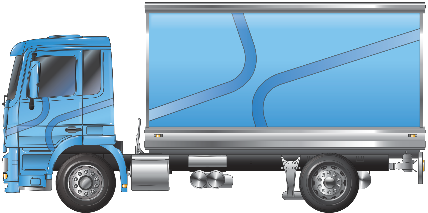 Figure 1 - Two Axle Rigid Truck (Diagram by NHVR)

Figure 2 - Three Axle Rigid Truck (Diagram by NHVR)
These may be fitted with a wide variety of body types. Rigid Trucks also typically have between two and five axles and GVMs between 3.5 and 33.5 tonnes.
Rigid Trucks and Trailers
Rigid Trucks are also commonly used to pull trailers. These can take many forms, such as a small trailer for carrying a mini-excavator or a large tipping trailer weighing as much, or more, than the truck pulling it. While it is less common some Road Train combinations are assembled using a rigid truck as the powered unit then coupled to two or more trailers.



Figure 3 - Three Axle Rigid Truck with Quad Axle Dog Trailer (Diagram by NHVR)
Articulated Combinations
Articulated combinations are made up of a prime mover as the powered unit connected to a semi-trailer, which in larger combinations is connected to additional trailers.

Figure 4 - Four Axle Semi-Trailer Combination (Diagram by NHVR)
The definition of a prime mover and semi-trailer combination, in contrast to a rigid truck drawing a trailer has two main elements.
1. The semi-trailer has its axle group offset to the rear, such that the front of the trailer is 'carried' by the prime mover.
2. The prime mover will have no load carrying space of its own, with all of the goods being transported on the trailers.

Figure 5 - Nine Axle B-Double Combination (Diagram by NHVR)
Australia is home to some of the largest road-going articulated combinations in the world, with quad-trailer road trains of up to 60m in length operating in Western Australia.

Figure 6 - 18 Axle BAB Quad (Diagram by NHVR)
Axle Configuration
Another way that a truck might be described is by listing the arrangement of wheels vs driven wheels. This might take the format of '6x4'. This describes a truck with six 'wheel ends' of which four are driven. In this naming system dual-tyred wheel ends are counted as one unit.
For example, if we revisit the first two vehicles from the start of this blog, the tipper body truck below on the left is all-wheel-drive, while the livestock truck below on the right has only the rear axle group driven.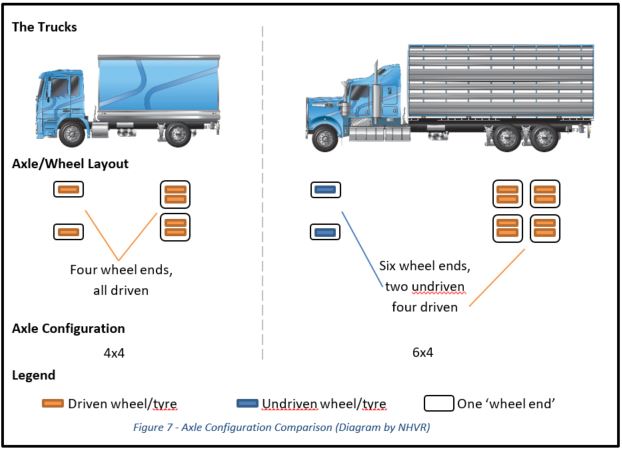 The majority of trucks in Australia have undriven steering axle/axles at the front and driven (non-steering) axles at the rear of the truck. There are many variations, each with their own jargon to describe them, here are some terms you may hear:
Lazy axle – a non-driven axle fitted in the rear axle group of a truck
Lift axle – a non-driven axle which can be raised when the vehicle is lightly laden
Tag axle – a lift or lazy axle fitted at the rear of an axle group
Pusher axle – a lift or lazy axle fitted at the front of an axle group.
Cab Position
The final way that trucks can be described is by the location of the cabin. There are two common layouts, the cabin mounted at the very front of the truck over the engine bay known as 'cab over engine', 'COE' or 'cab over'.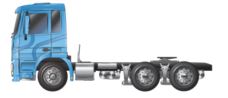 Figure 8 - A Cab Over Prime Mover (Diagram by NHVR)
The advantage of a cab over is that it provides the maximum possible space for cargo, however, this comes at the expense of making access to the engine more difficult. Almost all cab over trucks have a mechanism to allow the cabin of the truck to be tilted forwards to provide access to the engine.
The second layout has the cabin mounted further rearwards, behind a bonnet which covers the engine and radiator.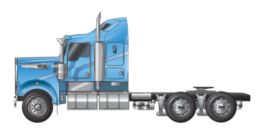 Figure 9 - A Bonneted Prime Mover (Diagram by NHVR)
This layout allows easier access to the engine bay for maintenance checks and servicing, however, in some applications this can come at the cost of reduced cargo space.
Generally, bonneted trucks are more common in North American designs/brands while cab over trucks are the norm in Japanese and European designs/brands.
With either position trucks may also be fitted with a 'sleeper'. This is a space containing a bunk to allow drivers to take rest breaks. These may be a separate box (with or without direct internal access) or more commonly in modern trucks, integrated into the design of the cab. Trucks without a sleeper are known as a 'day cab'.
There are other cab designs in use, such as 'island cabs' which are narrowed to allow long objects (such as lengths of steel) to be carried and 'cab forward' trucks with the cabin mounted low down and forward of the engine for special applications such as waste collection or use in airports.
HIGHLIGHTS
Most trucks in Australia are rigid trucks
Rigid trucks are commonly used to pull trailers
Articulated combinations are made up of a prime mover as the powered unit connected to a semi-trailer, which in larger combinations is connected to additional trailers